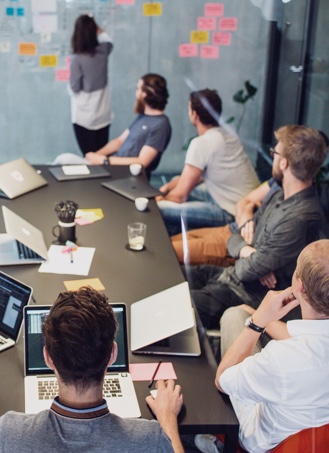 Building products out of an idea is our specialty. Start-ups operate under strict resource constraints. That's why understanding the market and potential customers is key.
We know what matters when defining the minimum viable product (MVP) to start with. We understand what it means to translate these requirements into technical specifications. We are very aware that the seed development or start-up phase is the riskiest stage of a company. Mistakes made at this early stage will have long-lasting impacts.
For tech start-ups, the technical architecture, as well as the scalability and quality of code, is directly related to the company value. These considerations together with market and customer research forms the directions of our user-centered design process. Our motto "know what not to do" comes from our entrepreneurial mindset paired with strategical focus. Cut unnecessary features, but concentrate on the high quality of the core right from the beginning. Constantly iterating the product further.
We believe in the standards of lean strategy and our values are based on three fundamental disciplines
Our projects are handpicked and have a vision that goes beyond what we can build. But behind this visionary ideas, there are structures and processes in place that make sure we work in the most professional and efficient way possible.
"Lean management, agile processes, and iterations define our daily work and make sure that we as a team as well as our products get better every day." Matthias Bendler, Scrum Master