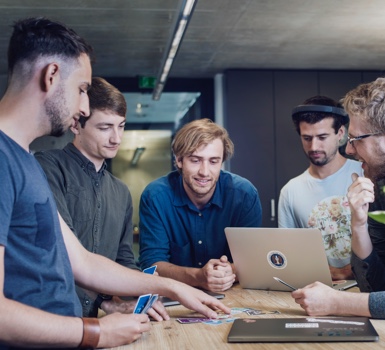 Work
with us
Our flat hierarchy and exceptional team culture is key to the personality of our company.
We believe that there is a wide range of talent in our team, so we want to support passionate people on their way to learn skills in new areas for professional growth. If you are motivated to join the mohemian Team, we are happy to offer you a part- or full-time position in Innsbruck.
Open
positions
The best things start with a good coffee. If you see yourself a good fit
to the following positions, why not stop by for a coffee in our office:
Junior Designer
mohemian is currently seeking for a Junior Designer to join our team, that is passionate about illustration, design and storytelling. You are the right person if you are design-oriented, have strong aesthetic skills and hands-on experience with the creation of visually innovative and engaging products and concepts.
Mobile Developer
mohemian is currently seeking for a mobile developer to join our team. You are the right person if you have a degree in computer science and a solid knowledge about lean software architecture as well as agile development.
UI/UX Designer
At mohemian we are looking for an experienced and creative UI/UX Designer to join our team! In this position you will be responsible for delivering the best online user experience, which makes your role extremely important for our success and ensuring customer satisfaction and loyalty.

To be successful in this role, you should have experience with design software and wireframing tools. If you also have a portfolio of professional design projects that includes work with web and mobile applications, we'd like to meet you.