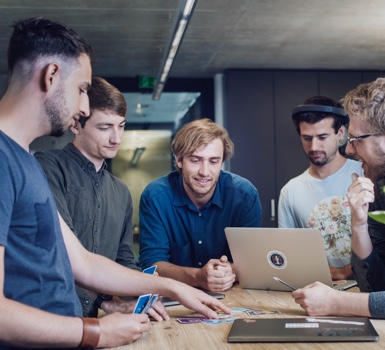 Work
with us
Our flat hierarchy and exceptional team culture is key to the personality of our company.
We believe that there is a wide range of talent in our team, so we want to support passionate people on their way to learn skills in new areas for professional growth. If you are motivated to join the mohemian team, we are happy to offer you a part- or full-time position in Innsbruck.
Open
positions
The best things start with a good coffee. If you see yourself a good fit
to the following positions, why not stop by for a coffee in our office
Senior Android Developer
mohemian is currently looking for an experienced Senior Android Developer to join our team in Innsbruck. We at mohemian have a broad range of experience and love technical challenges. Quality, security and privacy are a major part of our development efforts. Flat hierarchies and direct communication lines enable our engineers to shape the product and significantly contribute to the success of a project. Not only should you bring profound knowledge on Android platform, but also be fluent in clean architecture and UX patterns.
Senior Designer
mohemian is currently looking for an experienced Designer to join our team in Innsbruck, that is passionate about developing new concepts, designing for mobile platforms such as Android and iOS and storytelling. You are the right person if you are design-oriented, have strong aesthetic skills and hands-on experience with the creation of visually innovative and engaging products and concepts.